While EICMA has to be the biggest platform for motorcycle manufacturers, the Tokyo Motor Show also gets its fair share of innovative and fascinating concept bikes. And this year's Tokyo Motor Show was no different. We pick out five interesting concept bikes shown at the 2017 Tokyo Motor Show - 
Honda Neo Sports Cafe 
The Honda Neo Sports Cafe is an inline-four neo-retro motorcycle, featuring a blend of old-school styling and modern technology. Getting on the modern classic bandwagon, the NSC gets a sleek body, minimalistic rear, single-sided swing arm and a sculpted fuel tank which give it a sporty appeal. Modern touches include TFT instrument console and LED lamps. The NSC concept is expected to eventually take form of the next-generation CB1000R. 
Honda Riding Assist e
Honda is looking at revolutionising motorcycles with the Riding Assist-e, an electric self-balancing motorcycle. A technology derived from the ASIMO robot, the Riding Assist-e constantly assesses its position and moves the steering bar to ensure that it stays upright, even without a rider on board. Honda claims that the technology can be used in small as well as large motorcycles. The safety net is sure to encourage more people to take up motorcycling.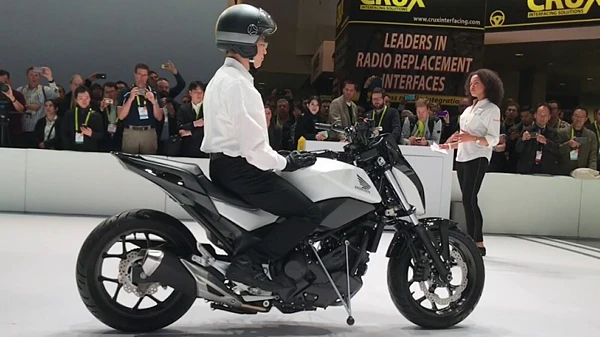 Honda CBR250RR Custom Concept
The Honda CBR250RR Custom Concept is more than just a glitzy modified CBR250RR. It does get an exclusive white paint scheme with red accents, but there a few mechanical updates too. The inverted front forks get Marowaki master cylinder and an adjustable rear shock by HyperPro Active. The quarter-litre engine breathes out through an Akrapovic exhaust, while the rear mudguard is made out of carbon fibre.
Yamaha Motoroid
While Honda showcased a self-balancing motorcycle, Yamaha went a step further and showcased a motorcycle which uses artificial intelligence to interact with the rider. While it does get handlebars and rider controls, the Yamaha Motoroid is an autonomous motorcycle capable of chauffeuring the rider to the destination. It can also be summoned out of the parking lot by the rider (no, we don't think it would respond to whistles). And of course, it gets an electric powertrain. 
Yamaha MWC-4
The MWC-4 is not exactly a motorcycle, for it has four wheels. But then it can lean into the corner like a motorcycle. Yamaha calls MWC-4 a quadracycle, and claims that it can offer a level of ride quality that cannot be achieved in a conventional motorcycle. At its heart is a hybrid powertrain, with a petrol engine powering two electric motors. The ambiguity aside, the Yamaha MWC-4 is as offbeat as a concept can get.