The mighty Himalayas
"Thousands of tired, nerve-shaken, over-civilized people are beginning to find out going to the mountains is going home; that wilderness is a necessity" said a famous author and I was soon going to be part of those thousands, courtesy – Royal Enfield Himalayan Odyssey 2013. This time the odyssey was special, not because I was going for it. It's because this year it marked the 10th edition of riding to the Himalayan pilgrimage that started in 1997 where a group of brave souls venture to arduous 2500km round trip from the heart of the capital to the dirt tracks of Leh situated in the Himalayas.
First look of the Himalayas while approaching Kushok Bakula Rimpochhe Airport, Leh
My feelings were mixed. I was nervous and at the same time very confident. Not because this is my first trip to Himalayas and also not because I never rode a Royal Enfield for more than 50 kms. It's because my ride route was from Leh to New Delhi unlike other riders who would have known about this difficult terrain as they reach Leh. It made me feel whether I will be able to do this ride considering the fact the altitude change would be drastic from mere few hundred feet to 11,562 feet in a matter of few hours. I feared altitude mountain sickness (AMS) would eat me and might destroy the dream of riding in the Himalayas. I had to make myself understand that fearing a fear won't get me anywhere. Fortunately, I reached Leh two days before the ride back to Delhi starts to acclimatize myself with the altitude and the weather. However, things that I had planned in Mumbai before leaving home were about to change once I landed at Kushok Bakula Rimpochee Airport (Its one of the highest airports in the world). I checked out with my limited number of baggages and was out of the airport where the Himalayan dream invited me with a mind blowing view.
Outside Kushok Bakula Rimpochhe Airport,Leh
I left the airport in search of my Hotel where a group of riders invited me with 'not so inviting' look. I managed to find my room and prayed "God, I am here to have a great experience. Please help me keep altitude mountain sickness out of my room door". Interestingly, this small little prayer of mine worked but things got different after few hours of rest. Being adventurous since childhood and known to test my limits, I decided to ride to Khardungla – the highest motorable road in the world. Yes! We are still on the same day of my landing. At this point, I had completely forgotten what AMS was all about and continued to my destination for the evening. The first few kilometers till the South Pullu check point are very nicely paved but after that, I encountered dirt and loose rock roads and sometimes no roads at all.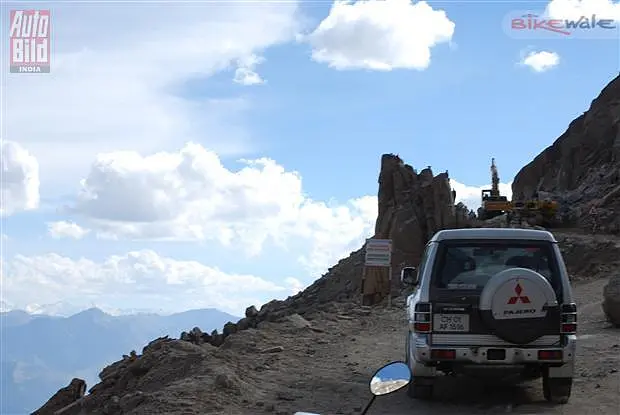 On the way to Khardungla
The difficult task of covering 6020 feet in just 2 hours was overcome as soon as I reached Khardungla Pass. So here I am talking to myself that I actually made it to this marvelous place and admiring the God's creation. This place makes you feel that you have achieved something in life which distinguishes yourself from other souls. I was enjoying the moment but felt little bit of dizziness (which was obvious) making me cut my time on this dream location. After 15 minutes of difficult breathing, I decided to ride back to my hotel and rest myself.