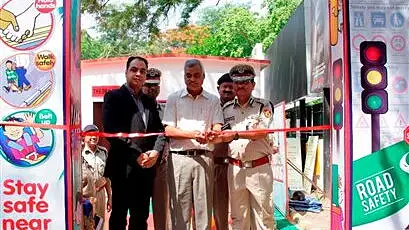 Honda Motorcycle and Scooter India Pvt. Ltd. (HMSI) in Delhi today in collaboration with the Delhi Traffic Police. This camp will continue till June 26 this year and includes activities which combined both theoretical and practical experiences of road safety and awareness for kids.
This initiative will comprise of specially designed fun engagements like Junior Investigators (road hazard identification exercise), painting and Traffic Quiz Contests. All these activities will be mainly aimed at making the children aware about the basics of road safety.
Apart from this, high school students were trained about the potential risks on the road. Kids within the age group of 9-12 years were trained on Honda's CRF 50 model, which has been specially imported from Japan to help them understand the importance of safety riding. These students were awarded with a certificate of completion.
Yadvinder S. Guleria, Senior Vice President- Sales and Marketing, Honda Motorcycle and Scooter India Pvt. Ltd. said, "Honda has associated with Delhi Traffic Police to make summer of 2015 really special for children. Educating young minds on 'safety with fun' is our priority. With the Road Safety Summer Camp, Honda wants to integrate playtime of kids with learning time through exciting educational games on Road Safety awareness. Attending this camp shall make these kids road safety influencers in their families today and responsible adult road users of tomorrow."
Honda has been conducting such activities at their Traffic Parks considering safety as its priority and has been promoting safe riding since 2001. This camp is aimed at engaging and educating school kids in a fun way, while briefing them about road safety. The company set up its first traffic park in Jaipur in 2012 after which seven more such parks were started at Delhi, Bhubaneswar, Cuttack, Chandigarh, Yeola (Nashik) and the most recent one in Hyderabad.