Kawasaki Ninja 650 [2016] price in Kolkata
On-road price
Dealers
Similar Bikes
Discontinued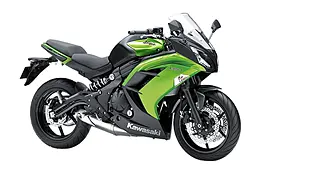 Disc Brakes
Alloy Wheels
Electric Start
Last known Ex-showroom price
₹
510512
Kawasaki has discontinued the Ninja 650 [2016] and the bike is out of production.
Kawasaki Showrooms in Kolkata
Speed Auto Service

222, Acharya Jagadish Chandra Bose Road, Ballygunge, Kolkata - 700017

8013449782
Ninja 650 [2016] prices in popular cities
Top 10 Sports Bikes in India
Are you looking for a sports bike? Check out our list of top 10 sports bikes in India.
Disclaimer:
BikeWale takes utmost care in gathering precise and accurate information about Kawasaki Ninja 650 [2016] price in Kolkata. However, this information is only indicative and may not reflect the final price you may pay. For more information please read Terms & Condition ,Visitor Agreement and Privacy Policy.
W3siUHJpY2VRdW90ZUlkIjowLCJNYW51ZmFjdHVyZXJOYW1lIjpudWxsLCJNYXNraW5nTnVtYmVyIjpudWxsLCJFeFNob3dyb29tUHJpY2UiOjUxMDUxMiwiUlRPIjo1NjA1MSwiSW5zdXJhbmNlIjoxMTQ0NiwiT25Sb2FkUHJpY2UiOjU3ODAwOSwiTWFrZU5hbWUiOiJLYXdhc2FraSIsIk1ha2VNYXNraW5nTmFtZSI6Imthd2FzYWtpIiwiTW9kZWxOYW1lIjoiTmluamEgNjUwIFsyMDE2XSIsIk1vZGVsTWFza2luZ05hbWUiOiJuaW5qYTY1MHItMjAxNiIsIlZlcnNpb25OYW1lIjoiU3RhbmRhcmQiLCJDaXR5SWQiOjE5OCwiQ2l0eU1hc2tpbmdOYW1lIjoia29sa2F0YSIsIkNpdHkiOiJLb2xrYXRhIiwiQXJlYSI6bnVsbCwiSGFzQXJlYSI6ZmFsc2UsIlZlcnNpb25JZCI6MTkwLCJDYW1wYWlnbklkIjowLCJNYW51ZmFjdHVyZXJJZCI6MCwiVmFyaWVudHMiOm51bGwsIk9yaWdpbmFsSW1hZ2UiOiIvYncvbW9kZWxzL2thd2FzYWtpLW5pbmphLTY1MC1zdGFuZGFyZC0xOTAuanBnPzIwMTkwMTAzMTUxOTE1IiwiSG9zdFVybCI6Imh0dHBzOi8vaW1nZC5hZXBsY2RuLmNvbS8iLCJNYWtlSWQiOjE3LCJJc01vZGVsTmV3IjpmYWxzZSwiSXNWZXJzaW9uTmV3IjpmYWxzZSwiSXNTY29vdGVyT25seSI6ZmFsc2UsIlN0YXRlIjpudWxsLCJNYW51ZmFjdHVyZXJBZCI6bnVsbCwiTGVhZENhcHR1cmVQb3B1cEhlYWRpbmciOm51bGwsIkxlYWRDYXB0dXJlUG9wdXBEZXNjcmlwdGlvbiI6bnVsbCwiTGVhZENhcHR1cmVQb3B1cE1lc3NhZ2UiOm51bGwsIlBpbkNvZGVSZXF1aXJlZCI6ZmFsc2UsIkRlYWxlcnNSZXF1aXJlZCI6ZmFsc2UsIkVtYWlsUmVxdWlyZWQiOmZhbHNlLCJNb2RlbElkIjowfV0=
NTc4MDA5
MQ==
["<li >Disc Brakes</li><li >Alloy Wheels</li><li >Electric Start</li>"]