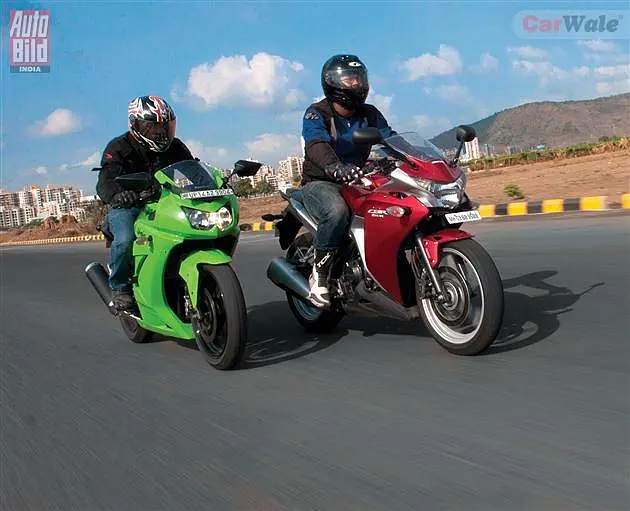 The new Honda CBR 250R is here. But, it is good enough to command right of way over the original stalwart, the Kawasaki Ninja 250R? We fi nd out.
Here we are then to answer today's most important question for the motorcycle enthusiast without pockets deep enough to afford a full blown sportsbike. And the question is - should you buy the new and promising Honda CBR 250R? Or should you still get yourself the very capable Kawasaki Ninja 250R? The pretext for choosing the winner here is quite straight forward. We are looking, like you would too, for the motorcycle that has presence, performance, dynamic ability to keep you involved and ahead, and of course, is easy to live with. The latter is important because you might just end up riding it everyday to work for both lack of options or for sheer fun.
One's bright green and the other, a sober red. And that alone should have kept the stares on the Ninja. But, no, the public at large – the Blackberry teenagers, the aunties and even the pretty young girls out with their boyfriends, seem to prefer the CBR. Maybe, because it's new. Or maybe it looks unique. But, whatever the reason, it's guaranteed to get you the eyeballs. The Ninja, though a tad traditional to the tall and edgy CBR, is still a very handsome motorcycle, and honestly does get heads to turn as well.
249.6 cc
29 kmpl
26.15 bhp
167 kg
;
Last known Avg. Ex-showroom price
₹ 1,55,655
Once astride, the Ninja clearly feels like the bigger motorcycle, there's more motorcycle between your legs and arms. The tank and side fairing are chunkier and there's more motorcycle ahead of you as well. The only downside here is that the rider's view is that of an old school bike. The Ninja still runs analogue clocks, and though these are easy to read, especially at speed, they don't evoke too much emotion.