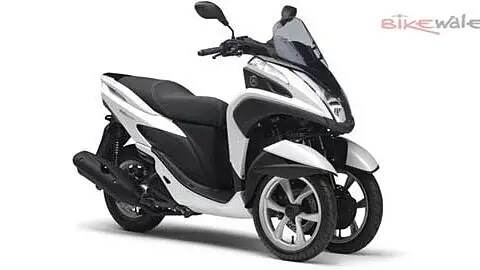 Although the Indian two wheeler market is unaccustomed to the concept of three-wheeled motorcycles, the leaning Multi-wheel models are quite a familiar species elsewhere, particularly in the European markets.
The Europeans, in fact, already have the Piaggio MP3 and the Peugeot Metropolis 400i. Now, there's another model joining the fray. It's called the Tricity and it's a 125cc scooter made by Yamaha. Shown first at the EICMA Motorcycle Show held last year, the Tricity adopts the familiar leaning multi-wheel concept, making it one of the most unique looking scooters around.
Powered by a 125cc, 4-stroke liquid-cooled engine, the Tricity weighs in at around 150 kilograms. Yamaha claims it's lighter, slimmer and more agile than anything else in its competition. The 125cc unit is mated to an automatic gearbox to offer a good balance between performance and convenience.
The Tricity is Yamaha's first attempt at the three-wheeled scooter space which is a relatively young segment. Unlike the models from Peugeot and Piaggio, the Tricity seems to have been developed using a different approach that puts emphasis on lightness and ease of use.
The Tricity is expected to go on sale by the middle of this year in the European markets. Yamaha India, however, may not want to bring it here in the Indian market given that there aren't really many takers for such a product.