Hyosung ST7 price in Mumbai
On-road price
Dealers
Similar Bikes
Discontinued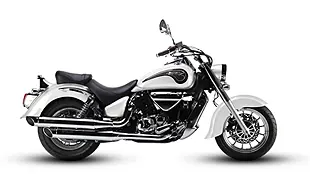 Disc Brakes
Alloy Wheels
Electric Start
Last known Ex-showroom price
₹
621744
Hyosung has discontinued the ST7 and the bike is out of production.
Hyosung Showrooms in Mumbai
Ronit Motors Hyosung - Lower Parel

Shop No.6,7 "58 West" 21 S V Road, Opp. Andheri Subway, Mumbai - 400053

7738738886

Ronit Motors

Ronit Motors Pvt Ltd, '58 West' Shop No 6,7 21 Sv Road , Opp Andheri Subway, Andheri West, Mumbai - 400058
Top 10 Cruisers in India
Are you looking for a cruiser? Check out our list of top 10 cruisers in India.
Disclaimer:
BikeWale takes utmost care in gathering precise and accurate information about Hyosung ST7 price in Mumbai. However, this information is only indicative and may not reflect the final price you may pay. For more information please read Terms & Condition ,Visitor Agreement and Privacy Policy.
W3siUHJpY2VRdW90ZUlkIjowLCJNYW51ZmFjdHVyZXJOYW1lIjpudWxsLCJNYXNraW5nTnVtYmVyIjpudWxsLCJFeFNob3dyb29tUHJpY2UiOjYyMTc0NCwiUlRPIjo1NjM5MCwiSW5zdXJhbmNlIjoxODAyNSwiT25Sb2FkUHJpY2UiOjY5NjE1OSwiTWFrZU5hbWUiOiJIeW9zdW5nIiwiTWFrZU1hc2tpbmdOYW1lIjoiaHlvc3VuZyIsIk1vZGVsTmFtZSI6IlNUNyIsIk1vZGVsTWFza2luZ05hbWUiOiJzdDciLCJWZXJzaW9uTmFtZSI6IlN0YW5kYXJkIiwiQ2l0eUlkIjoxLCJDaXR5TWFza2luZ05hbWUiOiJtdW1iYWkiLCJDaXR5IjoiTXVtYmFpIiwiQXJlYSI6bnVsbCwiSGFzQXJlYSI6ZmFsc2UsIlZlcnNpb25JZCI6MTk1LCJDYW1wYWlnbklkIjowLCJNYW51ZmFjdHVyZXJJZCI6MCwiVmFyaWVudHMiOm51bGwsIk9yaWdpbmFsSW1hZ2UiOiIvYncvbW9kZWxzL2h5b3N1bmctc3Q3LXN0YW5kYXJkLTE5NS5qcGc/MjAxOTAxMDMxNTE5MTUiLCJIb3N0VXJsIjoiaHR0cHM6Ly9pbWdkLmFlcGxjZG4uY29tLyIsIk1ha2VJZCI6OCwiSXNNb2RlbE5ldyI6ZmFsc2UsIklzVmVyc2lvbk5ldyI6ZmFsc2UsIklzU2Nvb3Rlck9ubHkiOmZhbHNlLCJTdGF0ZSI6bnVsbCwiTWFudWZhY3R1cmVyQWQiOm51bGwsIkxlYWRDYXB0dXJlUG9wdXBIZWFkaW5nIjpudWxsLCJMZWFkQ2FwdHVyZVBvcHVwRGVzY3JpcHRpb24iOm51bGwsIkxlYWRDYXB0dXJlUG9wdXBNZXNzYWdlIjpudWxsLCJQaW5Db2RlUmVxdWlyZWQiOmZhbHNlLCJEZWFsZXJzUmVxdWlyZWQiOmZhbHNlLCJFbWFpbFJlcXVpcmVkIjpmYWxzZSwiTW9kZWxJZCI6MH1d
Njk2MTU5
MQ==
["<li >Disc Brakes</li><li >Alloy Wheels</li><li >Electric Start</li>"]