Hyosung ST7 price in Bangalore
On-road price
Dealers
Similar Bikes
Discontinued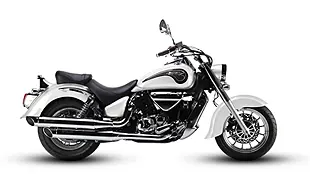 Disc Brakes
Alloy Wheels
Electric Start
Last known Ex-showroom price
₹
612762
Hyosung has discontinued the ST7 and the bike is out of production.
Hyosung Showrooms in Bangalore
Dejashvi's Automotive

No.8/2, M V Tower, Near Sagar Hospital and Ashram Bus Stop, Bannerghatta Main Road, Bangalore - 560069

9900044826

Avant Garde Motorrz

# 66, Bella Vista, Lavelle Road, Shanthala Nagar, Ashok Nagar, Bangalore - 560001

7676119999,7996639999
1 Hyosung Service centers in Bangalore
Get in touch with your nearest Hyosung service center in Bangalore for service enquiries, service and repair costs and more!
Top 10 Cruisers in India
Are you looking for a cruiser? Check out our list of top 10 cruisers in India.
Disclaimer:
BikeWale takes utmost care in gathering precise and accurate information about Hyosung ST7 price in Bangalore. However, this information is only indicative and may not reflect the final price you may pay. For more information please read Terms & Condition ,Visitor Agreement and Privacy Policy.
W3siUHJpY2VRdW90ZUlkIjowLCJNYW51ZmFjdHVyZXJOYW1lIjpudWxsLCJNYXNraW5nTnVtYmVyIjpudWxsLCJFeFNob3dyb29tUHJpY2UiOjYxMjc2MiwiUlRPIjoxMDIxNTksIkluc3VyYW5jZSI6MTgxODAsIk9uUm9hZFByaWNlIjo3MzMxMDEsIk1ha2VOYW1lIjoiSHlvc3VuZyIsIk1ha2VNYXNraW5nTmFtZSI6Imh5b3N1bmciLCJNb2RlbE5hbWUiOiJTVDciLCJNb2RlbE1hc2tpbmdOYW1lIjoic3Q3IiwiVmVyc2lvbk5hbWUiOiJTdGFuZGFyZCIsIkNpdHlJZCI6MiwiQ2l0eU1hc2tpbmdOYW1lIjoiYmFuZ2Fsb3JlIiwiQ2l0eSI6IkJhbmdhbG9yZSIsIkFyZWEiOm51bGwsIkhhc0FyZWEiOmZhbHNlLCJWZXJzaW9uSWQiOjE5NSwiQ2FtcGFpZ25JZCI6MCwiTWFudWZhY3R1cmVySWQiOjAsIlZhcmllbnRzIjpudWxsLCJPcmlnaW5hbEltYWdlIjoiL2J3L21vZGVscy9oeW9zdW5nLXN0Ny1zdGFuZGFyZC0xOTUuanBnPzIwMTkwMTAzMTUxOTE1IiwiSG9zdFVybCI6Imh0dHBzOi8vaW1nZC5hZXBsY2RuLmNvbS8iLCJNYWtlSWQiOjgsIklzTW9kZWxOZXciOmZhbHNlLCJJc1ZlcnNpb25OZXciOmZhbHNlLCJJc1Njb290ZXJPbmx5IjpmYWxzZSwiU3RhdGUiOm51bGwsIk1hbnVmYWN0dXJlckFkIjpudWxsLCJMZWFkQ2FwdHVyZVBvcHVwSGVhZGluZyI6bnVsbCwiTGVhZENhcHR1cmVQb3B1cERlc2NyaXB0aW9uIjpudWxsLCJMZWFkQ2FwdHVyZVBvcHVwTWVzc2FnZSI6bnVsbCwiUGluQ29kZVJlcXVpcmVkIjpmYWxzZSwiRGVhbGVyc1JlcXVpcmVkIjpmYWxzZSwiRW1haWxSZXF1aXJlZCI6ZmFsc2UsIk1vZGVsSWQiOjB9XQ==
NzMzMTAx
MQ==
["<li >Disc Brakes</li><li >Alloy Wheels</li><li >Electric Start</li>"]
INTELLIGENT
ELECTRIC
SCOOTER
Ather 450X
Know More