Yamaha MT 09 price in Hooghly
On-road price
Dealers
Similar Bikes
Discontinued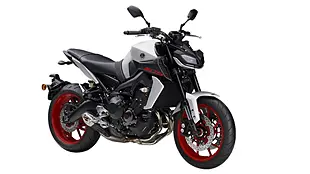 Disc Brakes
Alloy Wheels
Electric Start
Last known Ex-showroom price
₹
1064615
Yamaha has discontinued the MT 09 and the bike is out of production.
Yamaha Showrooms in Hooghly
Amna Auto Supply

Near Kamarpukur(Choti), Beside Bpcl Fuel Station, Sripur, Goghat, Hooghly - 712612

03211 244468

Manorama Enterprises

Sheakhala, Hooghly - 712701

9434515018

Sardamoni Enterprises

Chinsurah, Hooghly - 712101

9051660227
6 Yamaha Service centers in Hooghly
Get in touch with your nearest Yamaha service center in Hooghly for service enquiries, service and repair costs and more!
Top 10 Bikes in India
Are you looking for a bike? Check out our list of top 10 bikes in India.
Disclaimer:
BikeWale takes utmost care in gathering precise and accurate information about Yamaha MT 09 price in Hooghly. However, this information is only indicative and may not reflect the final price you may pay. For more information please read Terms & Condition ,Visitor Agreement and Privacy Policy.
W3siUHJpY2VRdW90ZUlkIjowLCJNYW51ZmFjdHVyZXJOYW1lIjpudWxsLCJNYXNraW5nTnVtYmVyIjpudWxsLCJFeFNob3dyb29tUHJpY2UiOjEwNjQ2MTUsIlJUTyI6NzcyMDAsIkluc3VyYW5jZSI6MzgyNzIsIk9uUm9hZFByaWNlIjoxMTgwMDg3LCJNYWtlTmFtZSI6IllhbWFoYSIsIk1ha2VNYXNraW5nTmFtZSI6InlhbWFoYSIsIk1vZGVsTmFtZSI6Ik1UIDA5IiwiTW9kZWxNYXNraW5nTmFtZSI6Im10LTA5IiwiVmVyc2lvbk5hbWUiOiJTdGFuZGFyZCIsIkNpdHlJZCI6NDM5LCJDaXR5TWFza2luZ05hbWUiOiJob29naGx5IiwiQ2l0eSI6Ikhvb2dobHkiLCJBcmVhIjpudWxsLCJIYXNBcmVhIjpmYWxzZSwiVmVyc2lvbklkIjo1MDM0LCJDYW1wYWlnbklkIjowLCJNYW51ZmFjdHVyZXJJZCI6MCwiVmFyaWVudHMiOm51bGwsIk9yaWdpbmFsSW1hZ2UiOiIvYncvbW9kZWxzL3lhbWFoYS1tdC0wOS5qcGc/MjAxOTI2MDIxNDMwMjkiLCJIb3N0VXJsIjoiaHR0cHM6Ly9pbWdkLmFlcGxjZG4uY29tLyIsIk1ha2VJZCI6MTMsIklzTW9kZWxOZXciOmZhbHNlLCJJc1ZlcnNpb25OZXciOmZhbHNlLCJJc1Njb290ZXJPbmx5IjpmYWxzZSwiU3RhdGUiOm51bGwsIk1hbnVmYWN0dXJlckFkIjpudWxsLCJMZWFkQ2FwdHVyZVBvcHVwSGVhZGluZyI6bnVsbCwiTGVhZENhcHR1cmVQb3B1cERlc2NyaXB0aW9uIjpudWxsLCJMZWFkQ2FwdHVyZVBvcHVwTWVzc2FnZSI6bnVsbCwiUGluQ29kZVJlcXVpcmVkIjpmYWxzZSwiRGVhbGVyc1JlcXVpcmVkIjpmYWxzZSwiRW1haWxSZXF1aXJlZCI6ZmFsc2UsIk1vZGVsSWQiOjB9XQ==
MTE4MDA4Nw==
MQ==
["<li >Disc Brakes</li><li >Alloy Wheels</li><li >Electric Start</li>"]