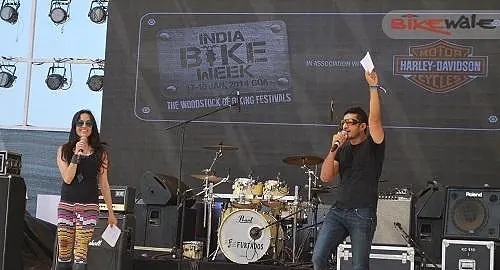 The wheels began turning at India Bike Week at 1pm with the H.O.G parade entering the grounds. Tday got more interesting with the introduction of the Legend Ride and the 21 Pipe Salute with none other than Ted Simon and Nick Sanders. This was followed by the Bike Build-Off Showcase at 3pm, where people showed off how well, they could assemble their bikes.
Later at 4 pm, Harley-Davidson fans have something to look forward to with the Harley-Davidson Customization Contest Showcase at the Howling Dog venue. Prior to this at the same venue you have Aniket Das with the X-Spec launch and Arnob Gupta and Vishnu Mehta.
Next up on the itinerary, at 4.15 pm is some reel magic at the Big Trip Cinema with Ted Simon's –Jupiter Travels, a story about his journey. At 4.30 pm at the Main Stage there is an introduction to Scott Redding. Then, starting 5pm, you have something most bikers will be interested in at the MTM Tent with Challenges to Start Long Distance Ride. Then the attention shifts back to Harley at 5.45pm with the most-awaited Harley-Davidson Street 750 launch at the Main Stage. At 6.15pm begins a discussion on the Future of Bike Design in India. At 7pm there is the Honour Roll with Anthony Ollkaran, Zubin Patel and the Long Haul Award at the Main Stage. Rounding off today's events will be music with The Dualist Inquiry Band at the Main Stage.