Mahindra Flyte price in Mumbai
On-road price
Dealers
Similar Scooters
Discontinued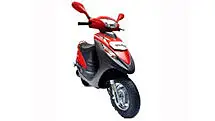 Drum Brakes
Alloy Wheels
Electric Start
Last known Ex-showroom price
₹
44493
Mahindra has discontinued the Flyte and the bike is out of production.
Mahindra Showrooms in Mumbai
NBS International - Andheri

Near Shopper Stop, S.V. Road, Juhu Junction, Mumbai - 400053

7738033377

NBS International - Chowpatty

10, Stone Building, Opp. Chowpatty Seaface, Mumbai - 400007

7738033377

S M Auto Goregaon

270-2141, Motilal Nagar No.1, New Link Road, Mumbai - 400001

8108150069
7 Mahindra Service centers in Mumbai
Get in touch with your nearest Mahindra service center in Mumbai for service enquiries, service and repair costs and more!
Top 10 Scooters in India
Are you looking for a scooter? Check out our list of top 10 scooters in India.
Disclaimer:
BikeWale takes utmost care in gathering precise and accurate information about Mahindra Flyte price in Mumbai. However, this information is only indicative and may not reflect the final price you may pay. For more information please read Terms & Condition ,Visitor Agreement and Privacy Policy.
W3siUHJpY2VRdW90ZUlkIjowLCJNYW51ZmFjdHVyZXJOYW1lIjpudWxsLCJNYXNraW5nTnVtYmVyIjpudWxsLCJFeFNob3dyb29tUHJpY2UiOjQ0NDkzLCJSVE8iOjQ2MTUsIkluc3VyYW5jZSI6MTIwMywiT25Sb2FkUHJpY2UiOjUwMzExLCJNYWtlTmFtZSI6Ik1haGluZHJhIiwiTWFrZU1hc2tpbmdOYW1lIjoibWFoaW5kcmEiLCJNb2RlbE5hbWUiOiJGbHl0ZSIsIk1vZGVsTWFza2luZ05hbWUiOiJmbHl0ZSIsIlZlcnNpb25OYW1lIjoiU3RhbmRhcmQiLCJDaXR5SWQiOjEsIkNpdHlNYXNraW5nTmFtZSI6Im11bWJhaSIsIkNpdHkiOiJNdW1iYWkiLCJBcmVhIjpudWxsLCJIYXNBcmVhIjpmYWxzZSwiVmVyc2lvbklkIjoxMzEsIkNhbXBhaWduSWQiOjAsIk1hbnVmYWN0dXJlcklkIjowLCJWYXJpZW50cyI6bnVsbCwiT3JpZ2luYWxJbWFnZSI6Ii9iaWtld2FsZWltZy9tb2RlbHMvMTMxYi5qcGc/MjAxOTAxMDMxNTE5MTUiLCJIb3N0VXJsIjoiaHR0cHM6Ly9pbWdkLmFlcGxjZG4uY29tLyIsIk1ha2VJZCI6MTAsIklzTW9kZWxOZXciOmZhbHNlLCJJc1ZlcnNpb25OZXciOmZhbHNlLCJJc1Njb290ZXJPbmx5IjpmYWxzZSwiU3RhdGUiOm51bGwsIk1hbnVmYWN0dXJlckFkIjpudWxsLCJMZWFkQ2FwdHVyZVBvcHVwSGVhZGluZyI6bnVsbCwiTGVhZENhcHR1cmVQb3B1cERlc2NyaXB0aW9uIjpudWxsLCJMZWFkQ2FwdHVyZVBvcHVwTWVzc2FnZSI6bnVsbCwiUGluQ29kZVJlcXVpcmVkIjpmYWxzZSwiRGVhbGVyc1JlcXVpcmVkIjpmYWxzZSwiRW1haWxSZXF1aXJlZCI6ZmFsc2UsIk1vZGVsSWQiOjB9XQ==
NTAzMTE=
MQ==
["<li >Drum Brakes</li><li >Alloy Wheels</li><li >Electric Start</li>"]
INTELLIGENT
ELECTRIC
SCOOTER
Ather 450X
Know More