Kawasaki Ninja 650 [2016] price in Bhubaneswar
On-road price
Dealers
Similar Bikes
Discontinued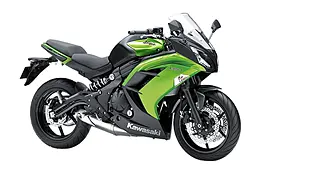 Disc Brakes
Alloy Wheels
Electric Start
Last known Ex-showroom price
₹
556681
Kawasaki has discontinued the Ninja 650 [2016] and the bike is out of production.
Kawasaki Showrooms in Bhubaneswar
Kawasaki Bhubaneswar

Plot No.365, Kadam Chhak, Near Highway Honda, Rudrapur, Bhubaneswar - 752101

9437412345
Ninja 650 [2016] prices in popular cities
Top 10 Sports Bikes in India
Are you looking for a sports bike? Check out our list of top 10 sports bikes in India.
Disclaimer:
BikeWale takes utmost care in gathering precise and accurate information about Kawasaki Ninja 650 [2016] price in Bhubaneswar. However, this information is only indicative and may not reflect the final price you may pay. For more information please read Terms & Condition ,Visitor Agreement and Privacy Policy.
W3siUHJpY2VRdW90ZUlkIjowLCJNYW51ZmFjdHVyZXJOYW1lIjpudWxsLCJNYXNraW5nTnVtYmVyIjpudWxsLCJFeFNob3dyb29tUHJpY2UiOjU1NjY4MSwiUlRPIjoyODQ4NCwiSW5zdXJhbmNlIjoxMjIzNSwiT25Sb2FkUHJpY2UiOjU5NzQwMCwiTWFrZU5hbWUiOiJLYXdhc2FraSIsIk1ha2VNYXNraW5nTmFtZSI6Imthd2FzYWtpIiwiTW9kZWxOYW1lIjoiTmluamEgNjUwIFsyMDE2XSIsIk1vZGVsTWFza2luZ05hbWUiOiJuaW5qYTY1MHItMjAxNiIsIlZlcnNpb25OYW1lIjoiU3RhbmRhcmQiLCJDaXR5SWQiOjI0MywiQ2l0eU1hc2tpbmdOYW1lIjoiYmh1YmFuZXN3YXIiLCJDaXR5IjoiQmh1YmFuZXN3YXIiLCJBcmVhIjpudWxsLCJIYXNBcmVhIjpmYWxzZSwiVmVyc2lvbklkIjoxOTAsIkNhbXBhaWduSWQiOjAsIk1hbnVmYWN0dXJlcklkIjowLCJWYXJpZW50cyI6bnVsbCwiT3JpZ2luYWxJbWFnZSI6Ii9idy9tb2RlbHMva2F3YXNha2ktbmluamEtNjUwLXN0YW5kYXJkLTE5MC5qcGc/MjAxOTAxMDMxNTE5MTUiLCJIb3N0VXJsIjoiaHR0cHM6Ly9pbWdkLmFlcGxjZG4uY29tLyIsIk1ha2VJZCI6MTcsIklzTW9kZWxOZXciOmZhbHNlLCJJc1ZlcnNpb25OZXciOmZhbHNlLCJJc1Njb290ZXJPbmx5IjpmYWxzZSwiU3RhdGUiOm51bGwsIk1hbnVmYWN0dXJlckFkIjpudWxsLCJMZWFkQ2FwdHVyZVBvcHVwSGVhZGluZyI6bnVsbCwiTGVhZENhcHR1cmVQb3B1cERlc2NyaXB0aW9uIjpudWxsLCJMZWFkQ2FwdHVyZVBvcHVwTWVzc2FnZSI6bnVsbCwiUGluQ29kZVJlcXVpcmVkIjpmYWxzZSwiRGVhbGVyc1JlcXVpcmVkIjpmYWxzZSwiRW1haWxSZXF1aXJlZCI6ZmFsc2UsIk1vZGVsSWQiOjB9XQ==
NTk3NDAw
MQ==
["<li >Disc Brakes</li><li >Alloy Wheels</li><li >Electric Start</li>"]